Electrification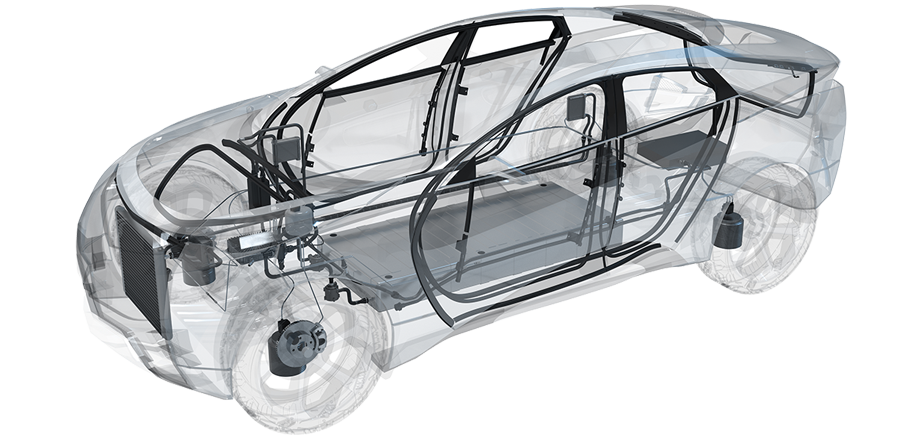 Cooper Standard is proactively responding to the vehicle electrification revolution and is continuously innovating our portfolio to stay ahead of the competition. The powertrain transformation has enabled us to apply our global expertise to radically change the thermal management landscape, address dramatic noise reduction and provide high-end, cost optimized styling. In 2020, we were proudly a supplier on 16 of the top 25 bestselling EV platforms.
Next Generation Fluid Handling Solutions
New electrified vehicles must maintain low component and fluid mass to meet vehicle driving range goals while providing necessary thermal management functions. This shift has brought about the development of materials and structures which can now be utilized to convey coolant from one place to another and provide serviceable and robust connections. Cooper Standard's lightweight fluid handling solutions including our next generation PlastiCool® 2000 Tubing and Easy-Lock® and Ergo-Lock™+ Quick Connectors are exceeding expectations to address the new conditions encountered in these electrified systems.
Superior Sealing Solutions
To address the increasing need for quieter interiors as a result of the electric vehicle powertrain revolution, Cooper Standard's Sealing Solutions including our lightweight Fortrex® elastomer can be applied to help seal unwanted elements, especially noise, outside of the vehicle. Electric vehicle styling trends are also leading to desire for high-end yet cost-effective aesthetics. Cooper Standard's Stainless Steel Decorative Trim enhances appearance while preserving corrosion resistance and our FlushSeal™ offers premium appearance with weight reduction.